Concrete. Rust. Textile. Sculpture. Work in the Studio.
Experiments with concrete, rust and textiles in developing sculpture.
Junk packaging for mold making
Taped up packaging filled with concrete, rust and cloth.
Poured wet concrete sculpture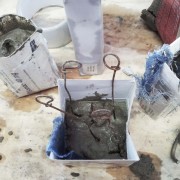 A series of 3D objects in the making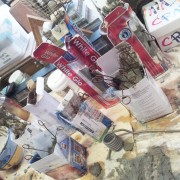 The first raw reveal after 24 hours. At this stage, I need to make my final decisions and changes to this sculpture, while the concrete is still soft enough to work with. I discovered in some of my earlier experiments, once its rock hard, its more difficult to work with.
I am still working on this series of sculptures using concrete, rust and textiles that will be part of my "Wallmatter" exhibition.
Tags: concrete, contemporary art, Exhibitions, Installation, jenny davis, mixed media, outlook8studio, rust, Sculpture, shibori, textiles, work in progress