Sometimes, when I'm stuck for ideas making artwork and it's just not happening, I  like to throw a heap of things together and arrange them near my work.
The items, may relate in colour, texture and type or be opposing which, I find much more exciting. Your brain will automatically try to come up with solutions. Expanding your ideas and creating new ones.
The flow on of ideas is sometimes amazing. It can lead to, resolving the artwork in front of you, as well as, give you ideas for a whole new body of work.
Juxtaposition and connections of items together seems to work for me.
I believe there is a creative force that is connected to everything we do.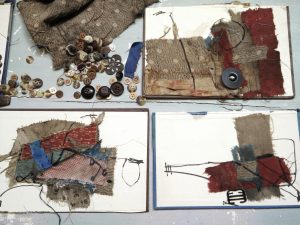 Tags: abstract art, Art materials, art studio, artist jenny davis, collage, collecting, creative ideas, inspiration, mixed media, old books, textile collage, work in progress