Currently available in my Gallery ," Limited Edition" art prints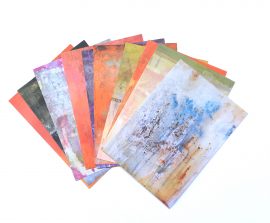 To purchase my Wallmatter series, please go to the Gallery  page.
Each collection of 10 prints is $35.00 AU. and includes (Free Worldwide Postage)
You will receive
1 collection of 10 Wallmatter art prints/cards shown
Blank on back + 10 white paper envelopes
One of each design
6″ x 4″ – 15 x 10cm. ea.
Designed from my original abstract paintings
Printed professionally
100% Recycled paper stock
Sustainably sourced
Matt finish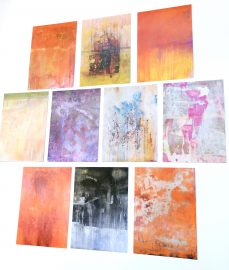 A beautiful way to send a personal message to your friends and family or, frame for a unique art display in your home or workplace.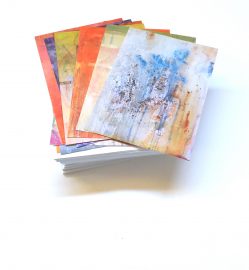 About Wallmatter series."A visual and textural descent into the abandoned, the derelict, the vacant and the, forgotten surface."Through her utilisation of forlorn industrial structures, stained and crumbling walls, acts of graffiti, redundant signage, and portals giving access to meandering subterranean systems,of timeworn surfaces. Jenny Davis evokes a unique vision at once spare and lavish, material and ghostly. It is a vision that elevates the significance of random marks, stress fractures and other imperfections, while enfolding the viewer in an atmosphere of chromatically gentle and strangely opulent decay."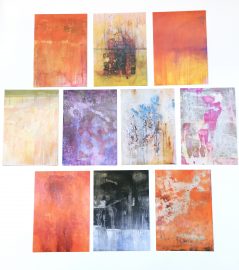 To purchase please go to my Gallery page and scroll down to "Small Art Prints".
(Free Worldwide Postage)
Tags: abstract art, abstract prints, Art for sale, art prints, artist jenny davis, decay, fine art print, france, italy, outlook8studio, Spain, texture, venice, walls, worn surfaces