When I first started painting, the thought of stretching my own canvas was frightening, but after a few attempts of stretching a canvas it came to me automatically. I was able to make canvases for half the price of store bought ones. Also, stretching your own canvas can trigger off the beginning of the creation through the hands on process of doing it yourself. Hope this helps.
Materials and equipment
Pre- made stretcher frame/ or self-made
Canvas material cut 10cm approx larger than your stretcher frame
Canvas staple gun
How to Stretch a Canvas
Lay your canvas on a flat surface wrong side up then lay your stretcher right side down on top of canvas. Pull the sides of your canvas up and round to the top of the stretcher.
DIAGRAM 1 Secure the 4 points with staples or tacks to create a diamond shaped wrinkle in the canvas. Check diagonals and adjust the stretcher for squareness before going further.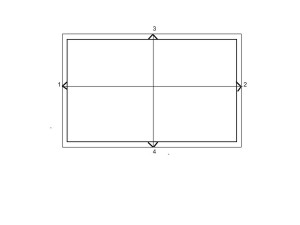 DIAGRAM 2– Secure the canvas to the stretcher with staples approx. every 6 cm. around the edge, working from the center points outwards. Pulling the canvas as you go. Continue working out to the corners in this pattern. Do not overstretch the canvas. When applying tension, the canvas pliers should not be forced to pull the canvas in place. The tension of course will become greater as you work towards the corners.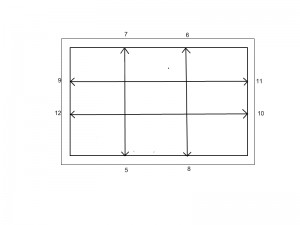 FOLD– the corners under; as neatly as you can, leaving no exposed tab that maybe caught and damaged. Staple or tack excess canvas that wraps around to the back of the frame.
HINT– Once finished and your canvas and is not as tight as you would like, fill a small spray bottle with luke-warm water and spray the canvas on the back. Once dry your canvas will be as tight as a drum. Happy painting!
Back to Outlook8studio  Tutorials