I love this place!
When I was in England a few years ago, I visited the Maidstone Museum in Kent. The Museum is housed in a charming Elizabethan Manor House, in the centre of Maidstone.
I had the whole place to myself and spent hours, strolling through large rooms, full to the brim, with stuffed animals, neolithic objects, dinosaur bones, Wordsworth, ancient artifacts, primitive tools, old toys, decorative arts and crafts, gilded manuscripts, books and old artworks. There was even an Egyptian mummy.
Diary extract 2005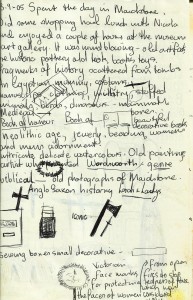 A few artworks, objects and photographs created over the years, inspired by my visit that day.