"Handmade Urban Trash book + Bag of Bits" 100% Recycled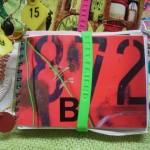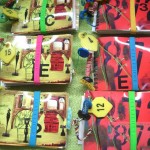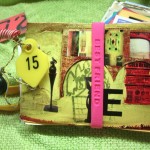 *Recycle
*Reuse
*Remake
I don't like to waste anything, so,recently I made a series of wire-bound books made from materials I recycled.The books are inspired by the 3 R's and my interest into underground spaces, tunnels, derelict warehouses, city apartment storage areas, dilapidated factories & industrial spaces in Melbourne and Paris. I collect the debris left behind in the streets,consumer packaging,found objects, postcards, clothing tags, wires, bottle tops and more. All these things I like to incorporate into my pieces.
About my Books
A series of wire and hand punched, bound books decorated with wires and junk from France, plastic sheep tags and other found items. The front and back covers are glossy images from my original artworks created using street litter found from the suburbs of Melbourne Australia. Throughout the books you will discover, recycled papers, white with vintage graph papers, envelope patterned papers with hand – dyed tags and baguette bags from Paris made into pockets.Under the "Best Friends" rubber band you will find a bag of bits to embellish.
If you would like to buy a book for yourself or as a gift you can buy them here
Tags: Alternative spaces, Alternative spaces, Art Books, Art Books, Art for sale, Art for sale, Artists books, Books, collecting, Collecting, cottontail Craft & Vintage, Paris, Recycled art, recycled art, street litter, Uncategorised, underground spaces, Underground Spaces