Rust & Shibori. Vintage Cigar Tins. Work in Progress.
A heap of vintage cigar tins in the process of change.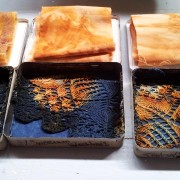 Vintage buckle, Japanese Shibori dyed scrap. Rusty fence wires and Victorian silk buttons were purchased from Penny's antique and vintage mixed media supplies.  Faginsdaughter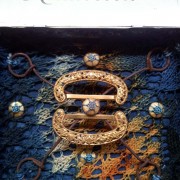 Old rusted door lock and fence wire with weaving made from beach- combed finds and indigo cotton string.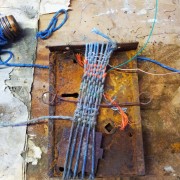 The beginnings of a textile book.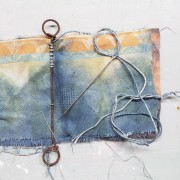 Rust and indigo dyed wall piece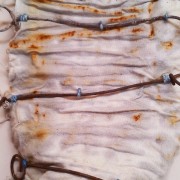 Finally, another tin. Metal detector find, central Victoria, 1800's suspender buckle, rusty wire and rust indigo dyed doily scrap. Unfortunately the beautiful buckle broke in this installation. It could be made from gold, as it was very soft.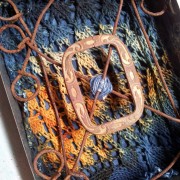 I may use some of these artworks in my next solo exhibition, "Wallmatter" in July