New Sculpture in the Gallery. Concretematter.
New sculpture available from my exhibition at The Memo,in Healesville Victoria Until Tues.16th August 2016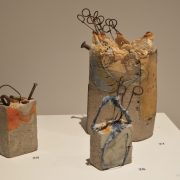 For more information please contact
Jade Bitar
Regional Exhibitions Officer
03 5965 3509 / 0419 384 526
exhibitions@yarraranges.vic.gov.au
Concretematter
To construct my 3D objects, I have used various methods: eco rust and Japanese Shibori dyeing, molding, casting, curing, sanding, chiselling, engraving, embedding, propagating, tearing, burning, sealing and finishing. To create the pieces, I combine hard and soft materials: industrial concrete, found packaging, lichen, moss, seaweed, vintage glass, cloth fragments and rusted found objects.