Handmade Books & Journals – by Jenny Davis.
I've made over the years, varies styles of recycled, handmade books/journals  to scribble, draw, glue & stitch in and I sometimes sell them … When overseas I make little transportable books from found papers, objects, advertising materials and packaging I find lying around.
Trash Books
In my trash books you may come across scribbles- an idea – a thought –budgets – numbers old exhibition invites- a collage- drawing-artists postcards – catalogue covers-fabric swatches-tags, botched print outs- advertising materials-art and travel catalogue pictures- junk mail –stickers- wallpapers- newsprint-tags and baguette bags -computer keyboard keys-old cheque butts and more….stuff I get inspiration from
Urban Cave Books
A collection of bits and pieces inspired by my interest into underground and abandoned spaces. Tunnels, derelict warehouses, dilapidated factories & industrial spaces. Created from my collection of debris left behind in the streets. Graffiti,  graphics and  consumer packaging.
Vintage French Couture Books
I made these when I was living in Paris. Original collage on cover created with vintage Parisian fashion style papers with traces of gold embossing. Authentic French baguette bags made into pocket pages, recycled envelope pages, large re-cycled tags aged with tea, decorated with cut-outs and writing from vintage magazines, small punched tags made from designer papers,blank white paper +re- cycled brown paper pages with a collage bookmark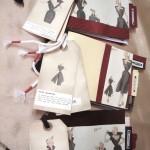 Chambre des Secrets Book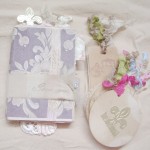 A very special hand made book inspired by old Paris and made in Paris. French inspired hand- sewn and hand bound book. The cover is created from vintage deep purple, brocade silk wallpaper with French cafe seam binding, hand stamped with French text.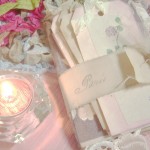 Pages embellished with vintage and silk wallpapers, brocade fabric swatches and a gold pocket full of vintage wallpapers. A vintage lace bookmark finished off with a paper gold crown from a Brittany "Nouvelle année" hat . The book is all tied up with Paris stamped, frayed ribbon and a tulle glass- glittered pin. This almost completes the story… 18 mixed round and luggage style decorated tags. All tags are hand dyed or aged and "décorées" (decorated) with vintage "botanique" wallpapers, original antique French monograms and royal coach stamps with glitter, crowns and delicate scrunchy ribbons in mocha chocolat, deepest rose pinks and pastels.
Vintage Wallpaper Books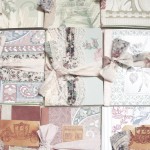 Old potato sack book,tattered and torn
Rustic, vintage industrial style books, created from old Australian potato sacks, with beaut graphics. Some have added scraps of text reclaimed from old tablecloths depicting, Australian places and wild flowers.
Each journal is handmade and loaded with vintage papers , recycled from an old business ledgers,handmade brown papers & tea stained white paper pages .
All lined inside with vintage papers from French decor magazines I found in Paris. Hand and machine sewn.
All topped off with a tag written, Old potato sack book,tattered and torn…then finished off with a string or leather loop, with vintage upholstery button to close.
Fabric books from French vintage fabrics and hand dyed canvas.
Baguette De Paper bag books made in France… Unique hand made books inspired by France and recycled bits and pieces from day to day life, in Paris plus, a love for raw honest materials and hand stitching. The books are made from blank crinkly, brown paper, salvaged from packaging. Hand sewn together with scraps of indigo blue denim fabric and coptic stitching, using coloured wools and beads. Includes, raw, unused coffee filters, fragile stickers, Middle Eastern cupcake papers, candy papers, coffee stained tag with original image from vintage French magazine, patterned correspondent envelope candy tags and more.
A pile of little books created from scrap vintage encyclopeadia's
Cottontail Books
In Australia I am inspired by the rustic, the vintage, patinas and rusty weathered surfaces of urban cities and country landscapes.
In France, I am very much inspired by the quality, handmade feel and look of things. Raw fabrics, cottons, muted colors. My little pocket -size books are homage to all the things I love about both countries.
Chambre des Secrets 2 Book.
A very special hand made book inspired by old Paris. Hand and machine sewn. The cover and pocket, has been created from antique French tulle netting, with embroidered edges. Next, a layer of sheer chiffon, in deep ecru, with vintage cotton trim and French silk tassel, in rose pink. This is used as a bookmark .Beautifully embellished and hand embroidered with French silk cording, in deep pinks and purple. All topped off with, handmade silk fleurs and a rose in various shades of rose pink with more silk tassels in French green. Inside the front cover the Eiffel tower glitters on top of a piece of antique cotton lace.
The journal closes with an aged doily medallion, hooked over a vintage gold Pierre Cardin button. I added 2, 1950s, iridescent crystal- glass, clip on earrings to close the front pocket. Inside you will find 112, lined pages of aged Italian paper with lines.
Tags: Uncategorised