A bit of colour in the studio today. How many colours and layers can I stack up on top of one another?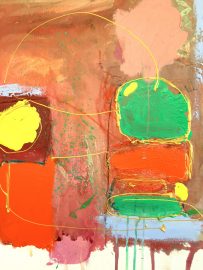 They remind me of Claude Courtecuisse's   "Hacking Objects" sculptures I saw in Paris at the Georges Pompidou Museum in 2007.
He erected towers and stacks of common objects.
Balance, colour, repetition, scale and transparency is what I took away from that exhibition.
As a child, I too, would build little towers of objects in my bedroom.
Still today I play and stack with my vast collection of vintage objects.
The towers have been getting higher and higher over time and eventually, I aim to make huge, tall one's, up to the roof or even higher.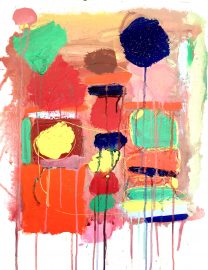 Now back to the painting…I'm not sure if I've resolved it yet, as something about it is still annoying me. Maybe that's a good thing?… as sometimes things that are a bit odd are more successful.
I think I will sit with it a bit longer.