Homemade Gesso!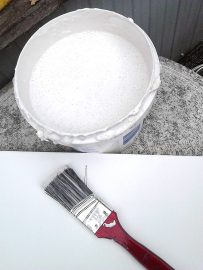 Update 2018! Since writing this recipe in 2014, Ive been using this homemade Gesso recipe, for 14 years now and haven't had an issue, with ageing, layers coming apart, seepage, changes in colour etc. on any of my artworks. I use it with both oil and acrylic paints. I also seal my papers with it when, making books, sewing on paper, paper for collage, painting with paint, inks etc. As to the quality, I find the homemade isn't as white, but just as good quality, as professional artists Gesso. I also use store bought gesso too, if I've run out and for convenience. My version is more gritty, than store bought, but if you sandpaper in between coats, I find it's not an issue. For me, this recipe is just as good as, the store bought and if you use archival PVA/Elmers glue, it will make it all the more stable, for longevity.
I love Gesso paint and use heaps of it in my work. It's gritty, chalky and can be applied to artwork to give a translucent or opaque look. It's also very expensive so I decided to make my own.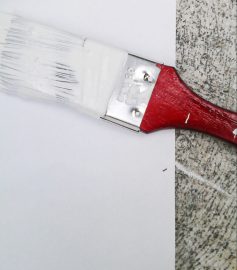 Gesso is used for many things such as a primer for canvas or on paper to give a good base for painting, drawing or mixed media work.  When making collage I use it as a gluing medium to stick on papers, in-between, painting and drawing layers.
The recipe below makes 2 litres of Gesso paint
( If not using straight away, this Gesso will last approx. 4-6 weeks)
Homemade Gesso
PLASTER MIX

1 cup Plaster of Paris or fine white plaster powder
1 cup of PVA or white glue (archival if available)

1 cup hot water
PAINT
3 cups white acrylic paint
UTENSILS
Container, cup and mixing stick or spoon
RATIO: 1-3
Plaster Mix 1 – Acrylic paint 3

Method
To make the plaster mix. Add the plaster to the hot water and stir ( Safety purposes: always add the plaster powder to the liquid, not liquid to plaster, as it will blow up into your face and always wear a dust mask)
Dust Mask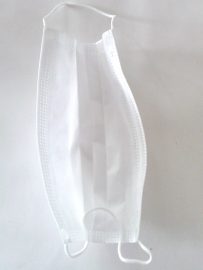 "Plaster of Paris" and cup
Hot water and mix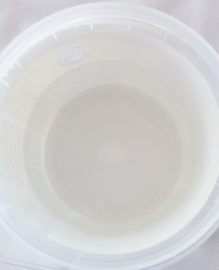 Next add the PVA or white glue, stir.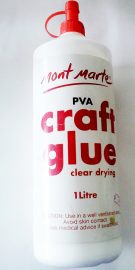 Finally add the white acrylic paint and mix. ( I used some acrylic powder paint I had and made it up with water) You can use any kind of acrylic paint or colour .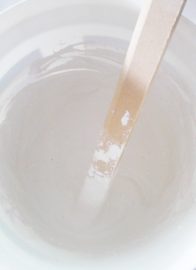 Result
I was very happy with the result. The gesso is translucent with the gritty bits I like. You can also do several layers of gesso to give a more opaque appearance. It covered my canvas very well with only 1 coat. When adding more than 1 coat you can sand in- between to give a really smooth surface for detailed work .
2 litres of Gesso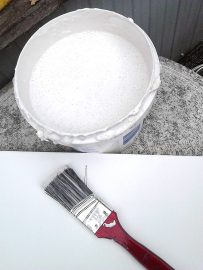 Gesso on stretched canvas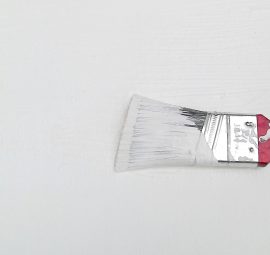 Gesso on paper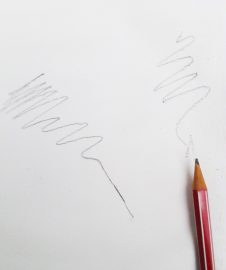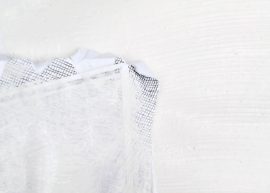 © 2014 – 2018, Jenny Davis. All rights reserved.